Huge mistakes has made by US in Syria
08 Feb 2017, 17:47 ( 08 Feb, 2017) | updated: 08 Feb 2017, 18:11 ( 08 Feb, 2017)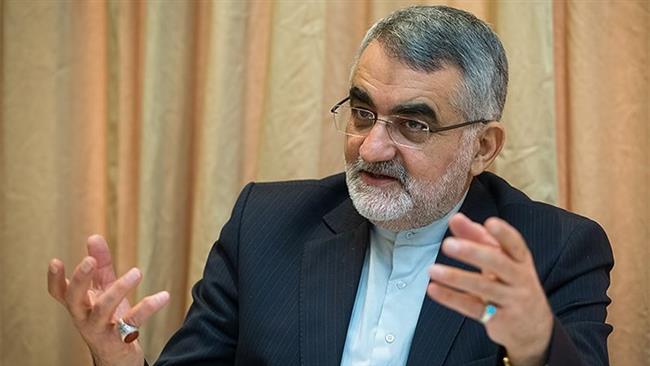 Iran's senior Parliamentarian Boroujerdi in a meeting with German MP Johann Wadephul said the US has made 'huge mistakes' in regional crises, particularly in regard to Syrian situation.
Chairman for the Committee for Foreign Policy and National Security of Iran Alaeddin Boroujerdi made the remark in a meeting with Johann Wadephul, Chairman of the German Committee on the Scrutiny of Elections, Immunity and the Rules of Procedure on Tuesday in Tehran.
During the meeting, Boroujerdi called for closer parliamentary ties between the two countries aimed at increasing mutual understanding and settlement of regional conflicts, given Iran's deciding role in the region and Germany's significant role in the EU.
"The Islamic Republic of Iran supports any cooperation, initiative and approach based on a serious and real confrontation with terrorism," he stressed.
Boroujerdi criticized the non-constructive role of the US in regional crises, particularly in Syria, adding "Iran believes that the only way to restore stability and peace to the region is through dialogues, cooperation among all Syrian groups without any foreign intervention."
He further touched upon Iran's recent missile test, adding "missile defense systems in the Islamic Republic are the only deterrence defined for the country's defense strategy, and our policy for development and strengthening of our missile program will never change."
"This capability will not be used against any country and the US objections have no legal and international basis," he added.
The German official, for his part, referred to Iran and the 5+1 nuclear agreement, adding "it is of high importance to us that we reached an international agreement and we must all remain committed to our obligations under the deal."
Wadephul stressed further expansion of trade and economic ties with Iran, adding "the nuclear deal opened new doors for Iran-EU cooperation."
"We are of the same opinion as the Islamic Republic of Iran that regional crises must be settled without any foreign intervention and the mistake that the West made in regard to Libya must not be repeated in any other country," he stressed.