Trump pledges to thrashing ISIS, renovate military with'beautiful new equipment'.
07 Feb 2017, 18:55 ( 07 Feb, 2017)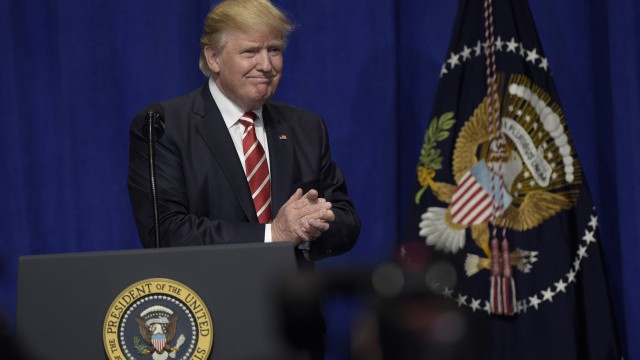 President Trump swore to reedify the military amid a stop Monday at Central Command in Tampa, Fla., where he likewise denounced "the very, very dishonest press" of not revealing all fear terrorist occurrences.
"Radical Islamic fear mongers are resolved to strike our country as they did on 9/11, as they did from Boston to Orlando to San Bernardino. and the whole way across Europe — you have seen what occurred in Paris and Nice," Trump told member of military.
"It's gotten to a point where it's not even being reported, and in many cases, the very, very dishonest press doesn't want to report it. They have their reasons and you understand that."
Spokesman of White House Sean Spicer later clarified that Trump felt terrorist attacks had been under-reported.
"He felt members of the media don't always cover some of those events to the extent that other events might get covered. Protests will get blown out of the water [out of proportion], and yet an attack or a foiled attack doesn't necessarily get the same coverage," Spicer said.
Requested particular occasions of such press exclusions, Spicer reacted: "We'll provide a list later. There's several instances."
In his comments, Trump additionally promised to reconstruct the military and thrashing ISIS.
"To these forces of death and destruction: America and its allies will defeat you. We will defeat them . . . and we will not allow them to take root in this country," Trump said of ISIS, the terrorist organization that controls parts of Syria and Iraq and has inspired attacks around the world.
"You've been lacking equipment. We're going to load it up. We're gonna be loading it up with beautiful new equipment," he added.
"We have your back, every hour, every day, now and always. That also means getting our allies to pay their fair share."
The president likewise utilized his comments to take a triumph lap, arousing the amassed troops by saying, "We had a wonderful election, didn't we?"
Talking about his endorsement numbers, Trump noted how well he did with the military, saying, "I saw those numbers. And you like me and I like you."
The president went ahead to beseech "free riders" in NATO to pay what's coming to them, "which many of them have not been doing."
But he included, "We fully support NATO."
Toward the start of his comments, Trump perceived Gov. Rick Scott (R-Fla.), who embraced him for president and who was at MacDill Air Force Base for the comments. Trump adulated Scott's support, taking a shot at those who didn't back his candidacy.

"If they don't endorse, it's never quite the same," he said.