African cows with longhorns are facing extinction
30 Dec 2016, 22:46 ( 30 Dec, 2016) | updated: 30 Dec 2016, 23:03 ( 30 Dec, 2016)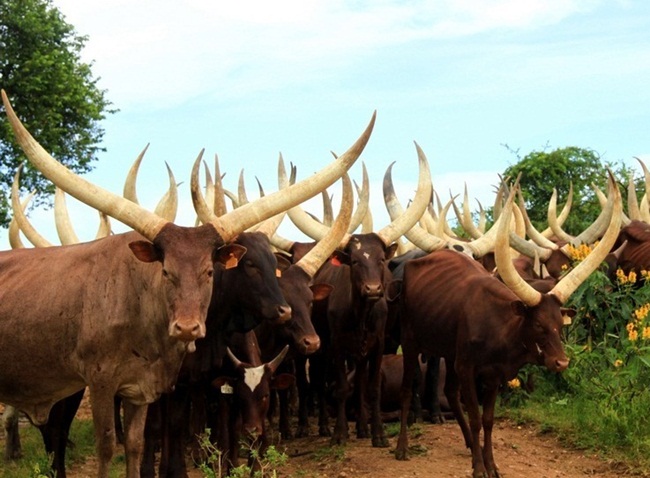 Revered for its long horns, the Ankole cattle are sacred animals in rural western Uganda and parts of neighboring Rwanda. The status of an individual among the tribesmen depended on the number and beauty of the cattle they possessed.
Its large distinctive horns that can reach up to 8 ft (2.4 m) from tip to tip are used for defense and cooling by honeycombs of blood vessels. Ankole-Watusis weigh from 900 to 1,600 pounds (410 to 730 kg).
"They are very beautiful to look at especially when they are very big in number. They are seen as wealth," Fidel Ruzindazi, a 70-year-old cattle keeper in the central Ugandan district of Sembabule told Xinhua in a recent interview.
Among the Bahima tribesmen, the Ankole longhorn cattle functioned as dowry, and were used to strengthen friendship, resolve conflicts and cleansing sins. Their hides were used for making clothes, mats and beddings. The horns were used to make beads and trumpets among others.
Image: Ankole-Watusi at the Château of Thoiry, France (Image Courtesy: wikipedia)
Their urine was used to clean containers for churning milk and keeping yogurt. Their milk, according to scientists, has high fat content and the meat is low in cholesterol which makes them healthier and more nutritious to consume compared to exotic breeds.
The ghee from the cows is served as a special sauce and the Bahima used to make bread and gravy from the cows' blood.
Over time, however, it is becoming increasingly hard to keep the longhorn cattle as they graze in large areas. The increasing human population, among other factors, has reduced the grazing land available for the herders.
Many of the herders have been forced to sell off some of their Longhorn cattle and switch to grazing smaller herds of exotic and hybrid breeds. The exotic breeds produce more milk, meat and need less land to graze on, thus bringing in more income.
"Even those who traditionally liked the cows are now losing that hope because the grazing land is getting smaller," Ruzindazi said.
Watch the biggest horned cows on earth:
Experts are however warning that if this breeding program continues, it will lead to the extinction of the indigenous breed. Along with the loss of the breed, cultural traditions and indigenous knowledge about animal breeding are likely to disappear.
CLIMATE CHANGE EFFECTS
The persistent harsh climate change effects that have hit Uganda in recent years have perturbed herders on whether to continue with the exotic breeds or return to the longhorn cattle that can withstand the effects.
The persistent long dry spells come with diseases that exotic breeds cannot withstand. This has forced farmers to resort to using antibiotics and acaricides to treat their exotic breeds. This reduces their profit margins.
Ruzindazi argues that this has forced some herders to resort to crop farming instead of rearing cattle.
Ugandan President Yoweri Museveni, himself a cattle keeper, has favored keeping the longhorn cows as opposed to exotic breeds, noting that the indigenous breeds can survive on poor quality vegetation and live off limited amounts of water in times of long dry spells.