Two supersonic US bombers fly over Korean peninsula in 'show of force'
11 Oct 2017, 15:43 ( 11 Oct, 2017) | updated: 11 Oct 2017, 16:08 ( 11 Oct, 2017)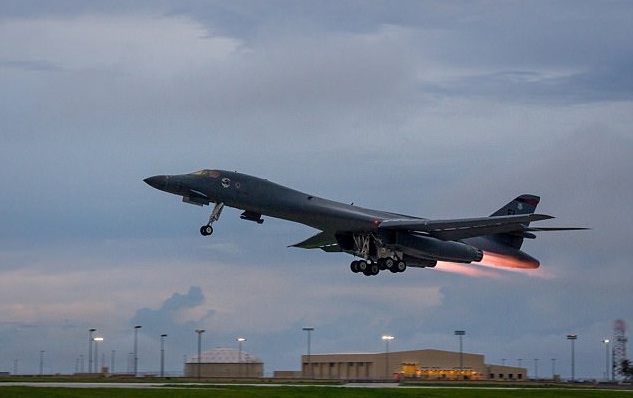 The B-1B combat bombers were joined by two South Korean F-15K fighter jets, and carried out air-to-ground missile drills off South Korean waters. The same day, Defense Secretary James Mattis and Chairman of the Joint Chiefs of Staff General Joseph Dunford released a statement saying that Trump had been briefed on how to deal with the Kim regime.The briefing 'focused on a range of options to respond to any form of North Korean aggression or, if necessary, to prevent North Korea from threatening the United States and its allies with nuclear weapons,' they said. The bombers took off from the US Pacific territory of Guam on Tuesday night, before entering South Korean airspace and conducting firing exercises over the East Sea and Yellow Sea, South Korea's military said. The US said Japan's air force also took part in the drill.
US President Donald Trump met top officials from his national security team on Tuesday night for a briefing on ways to respond to threats from North Korea, the White House said.Mr Trump and North Korean leader Kim Jong-un have exchanged heated rhetoric in recent weeks.In a speech at the UN in September, Mr Trump accused Mr Kim of being "on a suicide mission" - while Mr Kim responded by vowing to "tame the mentally deranged US dotard with fire".North Korea has launched two missiles over Japan and conducted its sixth and biggest nuclear test in recent weeks in defiance of UN sanctions as it races towards its goal of developing a nuclear-tipped missile capable of hitting the United States.
Trump's administration has been at the forefront of a drive to impose sanctions on the country in response to those tests.The North Korean party anniversary passed without any missile launches or nuclear tests, but officials are wary the North could engage in more provocations at any time, especially with China to begin its all-important Communist Party Congress on October 18. It comes after reports that North Korean hackers stole hundreds of classified military documents from South Korea including detailed wartime operational plans involving its US ally. Rhee Cheol-Hee, a lawmaker for the ruling Democratic party, said the hackers had broken into the South's military network last September and gained access to 235 gigabytes of sensitive data, the Chosun Ilbo daily reported.Among the leaked documents was Operational Plans 5015 for use in case of war with the North and including procedures for 'decapitation' attacks on leader Kim Jong-Un, Rhee said. The United States fought a bloody conflict in Korea from 1950-1953 that ultimately ended in stalemate and the continued division of the peninsula after hundreds of thousands of Chinese troops entered on the side of the north, turning it into a war of attrition.