Thousands of anti-fascist protesters swarmed to a 'free speech' rally in Boston on Saturday afternoon
20 Aug 2017, 07:49 ( 20 Aug, 2017)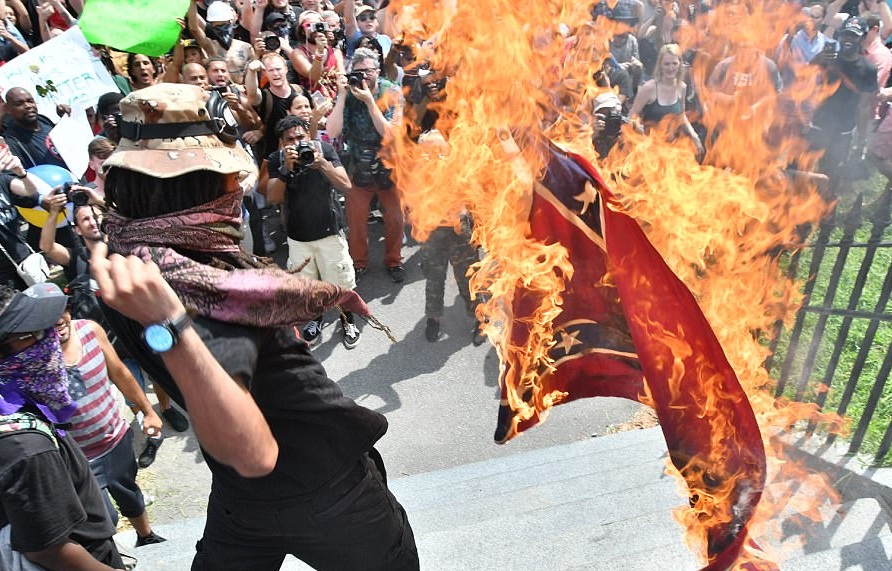 Tens of thousands of anti-racism protesters have opposed the "Free Speech" rally in the US city of Boston that featured right-wing speakers. The rally on Boston Common, which attracted only a small crowd, disbanded early and the participants were escorted out by police.The organisers had said they would not give a platform to racism or bigotry.Tensions are high after violent demonstrations in Charlottesville, Virginia last weekend turned deadly.The Boston Herald reported that up to 30,000 people attended the protest. Demonstrators had gathered at a Boston sports centre and then marched en masse to the common.Those at the conservative rally were confined to the bandstand area on Boston Common. Crowds of anti-racism protesters surrounded the bandstand but were kept some distance away.
Hundreds of police were deployed and clashes broke out later between some police and anti-rally protesters. Police said that officers had had rocks and bottles of urine thrown at them. Thirty-three people have been arrested.Many anti-rally protesters wore stickers showing the face of 32-year-old Heather Heyer, who died when a car was driven into a crowd of counter-protesters at last Saturday's far-right rally in Charlottesville. The crowd chanted "No Nazis, no KKK, no fascists in the USA!" and carried banners with slogans such as "Stop pretending your racism is patriotism".
Boston Mayor Marty Walsh later thanked the counter-demonstrators, who he said "came out to share the message of love, not hate."To fight back on the white supremacists and the Nazis that were coming to our city, I want to thank everyone who came," he said. Chris Hood, an 18-year-old Boston resident standing among others planning to join the "Free Speech" rally, told Reuters news agency: "The point of this is to have political speech from across the spectrum, conservative, libertarian, centrist." The list of speakers for the event changed a number of times in the days ahead of the gathering. At times it included speakers who have been associated with the far right.
The violence in Charlottesville began with a protest and counter-protest over the planned removal of a statue of Confederate commander General Robert E Lee.Last weekend's violence sparked the biggest domestic crisis yet for U.S. President Donald Trump, who provoked ire across the political spectrum for not immediately condemning white nationalists and for praising 'very fine people' on both sides of the fight.Beyond the Boston rally and counter-march, protests were held on Saturday in Texas, with the Houston chapter of Black Lives Matter holding a rally to remove a 'Spirit of the Confederacy' monument from a park and civil rights activists in Dallas had a rally against white supremacy.