New York mom-of-two who jumped to her death from a high rise with her husband because of their spiraling financial woes
03 Aug 2017, 17:04 ( 11 Months ago) | updated: 03 Aug 2017, 17:24 ( 11 Months ago)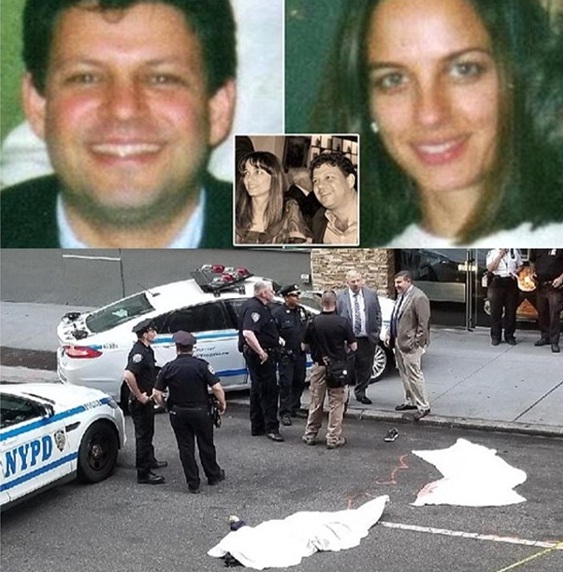 Chiropractor Glenn Scarpelli and his wife Patricia, who worked as the receptionist at his surgery, ages 53 and 50, leaped to their deaths from a ninth-floor office window in their recently-closed practice in Murray Hill, on Friday morning around 5:45am.They jumped with a suicide notes in each of their pockets, sealed in a plastic baggie so that they wouldn't get bloody after the fall. In his letter, titled 'WE HAD A WONDERFUL LIFE,' Scarpelli said that he and his wife had found themselves in a 'financial spiral'. We both have medical issues, we just can't afford the health care,' the note continued. The couple owed $23,304 in federal taxes and had an April 2015 lien for a $232,295 debt.They are survived by their two college-aged children, 20-year-old Isabella, at the University of Texas, and 19-year-old Joseph, currently attending the University of Miami.Friends have launched an online fundraising campaign in the wake of their suicides to pay the children's tuition. By Wednesday the campaign had raised more than $66,000 of its $100,000 goal. The incredible generosity may not be so surprising considering all the work the couple did to give back to their community. Glenn volunteered at Ground Zero immediately following 9/11, working days and nights relieving joint pain from workers at the World Trade Center site after the attack. Fellow chiropractor Adam Lamb told the New York Post: 'We helped adjust for stressed and freaked out firefighters, policemen anyone who needed help,' Lamb said. 'He was just an amazing, amazing, generous person.' Scarpelli also spoke with a blogger Dr Thomas Lamar about his volunteering, saying: 'You could feel the energy. You could feel the death in the air. We're using just our hands and adjusting people from our hearts.' Chirorpactor Amy Lambert rented a room in Scarpelli's Madison Wellness Center and she told the Post that she sometimes volunteered at soup kitchens with Scarpelli and that he 'never turned anyone away if they couldn't afford his services'.
Before the couple took their own lives, it appears they prepared their children for how to cope with the loss of their loved ones.In an essay, read out to his classmates at the elite Loyola High School, on the Upper East Side, in March 2016, Joseph Scarpelli, 19, shared some advice his parents had shared with him.My parents repeatedly told me that I could wake up one day and lose every material possession and everyone I love, but no one will ever be able to take away my faith,' he said in the morning assembly.The essay, written for the school magazine, also talked about coming from a 'proud Italian-American family' who were weekly communicants at their local Catholic parish. Their kids didn't know anything about their financial problems,' said a woman who attended Loyola High School with Isabella. 'None of us did. He seemed like he loved his job.'
The couple left behind suicide notes in a ziploc bag, detailing their 'financial spiral'. A photo of Glenn's note, obtained by the New York Post, shows part of the letter, with the full text obscured. However, parts of the note are visible, showing that he talks about how he and his wife 'had everything in life', but that they 'can not live with' their 'financial reality'.In the wife's suicide note, she asked that their kids be taken care ofPublic records showed that Glenn owed about $213,000 to the federal government and nearly $42,000 to the state in unpaid taxes dating back to 2003. But they still managed to sent their two schools to the private school. Both parents were active supporters of the school while the children attended it, taking part in organizing its annual benefit gala. Isabella, 20, played varsity soccer and track and field while Joseph played varsity baseball and won an award for math and science when he was at Loyola. Glenn and Patricia Scarpelli jumped from the ninth-floor window of a 17-story office building on Madison Avenue in Murray Hill on Friday morning.
The couple lived downtown near Wall Street but they traveledto Glenn's recently closed chiropractic practice, just a block from the Empire State building, to commit suicide. Police covered their bodies with white sheets when they arrived on the scene, shutting down the entire block to investigate. A neighbor of the Scarpellis, who did not wish to be named, said she occasionally passed the couple, who lived on the third floor, in the hallway and said they seemed like nice people, who were quiet and kept to themselves.However she said on each occasion she had seen Scarpelli, he appeared to have been drinking but was not 'fall-down drunk'.A bartender at nearby Mad Dogs & Beans, located below the Scarpellis apartment building, said he recognized a picture of the husband, adding that he would come in and have a few drinks but that he was not talkative.Scarpelli was originally from Brick, New Jersey, where he had been a soccer star at the local Memorial High School.Perry Kim, 49, a worker at Pure Green, a juice shop on the same block, said that he was outside just after 5:30am this morning when he heard an 'ahhh' noise and saw two people fall from the top of the building.The man appeared to hit his head and the woman had suffered abdominal injuries. They landed face up to the sky. He said his manager called 911 and police and EMTs were there soon after but the bodies were immediately covered.